March 13 – 4 April 1999
Saranrom Park Bangkok, Thailand
Please Scroll Down for Thai ภาษาไทยโปรดอ่านด้านล่าง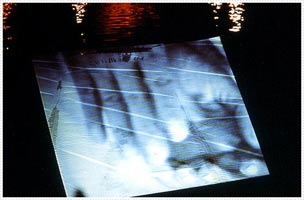 In 1995 a group of six Thai female artists met in Bangkok: Mink Noparat (the catalyst), Jittima Pholsawek(Ukabat group), Phaptawan Suwannakudt (art mural painter), Khaisaeng Phanyawatchira (performance artist), Charassri Roopkamdee (print-maker) and Nitaya Ueareeworakul (artist). The result of the meeting was a painting,installation and performance event called "Tradisexion", emphasising traditional conflicts stemming from being a woman. It was held at Concrete House (founded by Chumpol Apisuk), celebrating World Women's Day (March 8th). The feed back was good, but the event had too small an impact as only artists attended: That was thestarting point of the first and second Womanifesto.
Studio Xang has always been the unofficial centre for art net-working and a meeting place for artists in Bangkok. The six artists continued to meet regularly at Studio Xang and eventually realised their olan for Womanifesto I. Baan Chao Phraya (Chaiyong Limtongkul Foundation) and Concrete House, offered their premises. Thanks to the kind collaboration of Varsha Nair, an Indian artist, residing in Bangkok and Professor Somporn Rodboon of Silapakorn University, '!'Ie were able to invite eighteen participating 'sts: Nine from Thailand and the remainder from Japan, Indonesia, India, Singapore, Pakistan, Austria,. –Iy and USA. Their work comprised: paintings, ceramic art, VDO-art, installation and perform1nce art. as highly successful in many ways particularly in establishing international networking among women artists.
We co-founded Studio Xang and have always believed that art should be a medium to raise ic awareness of social issues. This combined with the outcome of Womanfesto I, was the driving 'ce behind the second Womanfesto, an international women's art-in-the-park project in Bangkok.
In 1998, Dr. Kraisak Choonhavan, advisor to the Governor of Bangkok and an artist himself, eventually pushed the project through. It cannot be forgotten that our present Governor Dr.Bichit Rattaku is the first governor to truly care for the quality of life of Bangkok people and is also a great lover of art. The organisers were proud to jOin the BMA in celebrating His Majesty the King's 72nd Birthday (5th December 1999). The BMA's sponsorship enabled us to invite 32 artists from 13 countries to work together in the Saranrom Park for the Womanifesto II.
Womanifesto II had the objective to use Bangkok as a place for Thai & international artists to meet, exchange experience and present their art works with the freedom to express themselves culturally, politically and socially. This objective was fulfilled. Moreover Thai and foreign artists were delighted that the Bangkok Governor showed enormous interest. This was a great help in boosting awareness of public ar and the status of women artists in Thailand and other countries. The success of this event has led to the planning of a women artists archives centre which will be the first in South East Asia.
We hope that other women will come forward to plan Womanifesto III in the next two years.
Pantini Chamnianwai Nitaya Ueareeworakul Studio Xang
June, 1999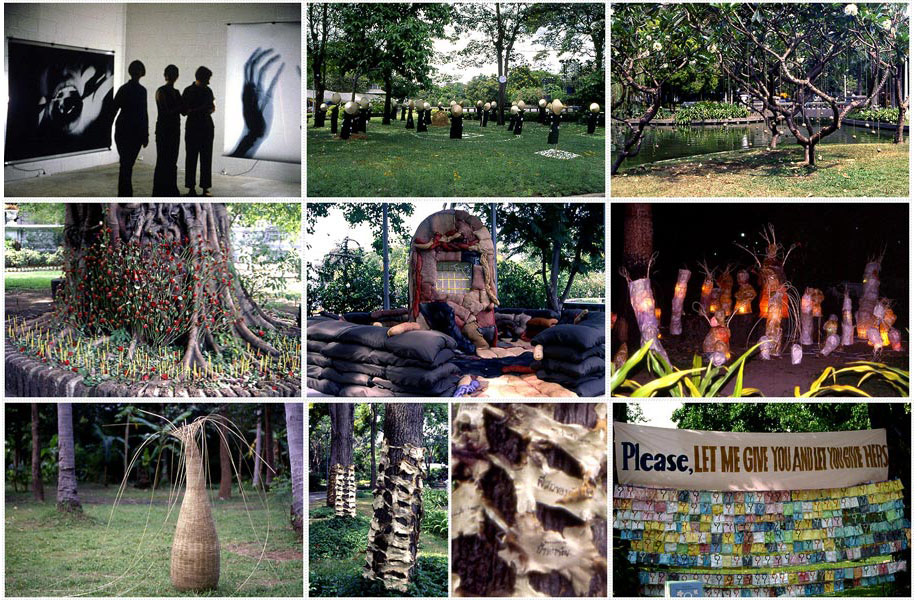 Organisation : Studio Xang , Empower Foundation, Hers Group
Text : Studio Xang, The Artists
Catalogue Conception and Design : Nitaya Advertising & Printing Co.,Ltd.
Photograohy : Mongkol Plienbanchang, Kornkit Jienpinitnant
Video Camera : Surapol Panyawatchira
Translation : Pantini Chamnianwai
English editing : David Deveraux
Sponsors : Bangkok Metropolitan Administration & Art Culture Foundation of Bangkok
นิทรรศการแลกเปลี่ยนศิลปินหญิงนานาชาติครั้งที่ ๒ พ.ศ.๒๕๔๒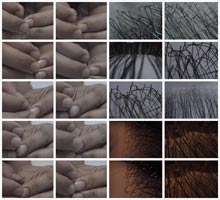 เป็นนิทรรศการศิลปินหญิงนานาชาติ ถือกำเนิดจากการริเริ่มและดำเนินการโดยกลุ่มศิลปินหญิงไทยหกคนคือ จิตติมา ผลเสวก, มิ้งค์ นพรัตน์, นิตยา เอื้ออารวรกุล, ภาพตะวัน สุวรรณกูฎ, ไขแสง ปัญญาวชิระ, และจรัสศรี รูปขำดี ได้ร่วมกันจัดขึ้นเมื่อเดือนมีนาคม พ.ศ. 2538 ภายใต้หัวข้อเรื่อง TRADISEXION หรือ ประเวณี-ประเพณี ณ ศูนย์บ้านตึก นนทบุรีของคุณจุมพล อภิสุข เพื่อเป็นการขานรับวันสตรีสากล คือวันที่ 8 มีนาคมของทุกปี ผลปรากฎว่าเป็นที่สนใจในหมู่ศิลปินและผู้เข้าชมแต่ยังอยู่ในวงแคบ จึงทำให้เกิดความคิดร่วมกันว่า นี่เป็นเพียงจุดเริ่มต้นเท่านั้น จะหยุดเพียงนั้นคงไม่ได้ หากจะได้จัดนิทรรศการลักษณะนี้อีกเพื่อแพร่หลายไปในวงกว้างขึ้นก็จะเป็นประโยชน์อย่างยิ่งโดยเฉพาะการนำเสนอประเด็นสังคม โดยใช้งานศิลปะแขนงต่างๆ เป็นสื่อ เพื่อที่จะได้เป็นแรงผลักดันให้เกิดการเคลื่อนไหวและเปลี่ยนแปลงสังคมในเชิงสิทธิสตรี อีกทั้งเป็นการส่งเสริมคุณภาพชีวิตที่เชิญชวนให้ประชาชนทั่วไป ให้ได้คุ้นเคยกับศิลปะในรูปแบบที่หลากหลายมากขึ้น
สตูดิโอช้าง (กลุ่มศิลปินอิสระ และผู้สอนศิลปะเด็ก) ได้กลายเป็นศูนย์กลางการติดต่อและนัดหมายของหมู่ศิลปินในกรุงเทพฯแห่งหนึ่ง ซึ่งคอยรับข่าวสารเชื่อมโยงระหว่างศิลปินทั้งไทยและต่างชาติเสมอมา ได้รับความร่วมมือจากคุณวาร์ชา แนร์ ศิลปินชาวอินเดียที่พำนักอยู่ในประเทศไทย ร่วมกันจัดนิทรรศการศิลปินหญิงนานาชาติขึ้นที่หอศิลป์บ้านเจ้าพระยา (มูลนิธิไชยย้ง ลิ้มทองกุล)และที่ศูนย์บ้านตึก อีกทั้งได้รับการสนับสนุนจากอาจารย์สมพร รอดบุญ มหาวิทยาลัยศิลปากรร่วมเป็นที่ปรึกษา ได้เชิญศิลปินหญิงเข้าโครงการ 18 คน จาก 9 ประเทศ คือ ออสเตรเลีย อินเดีย อินโดนีเซีย อิตาลี ญี่ปุ่น ปากีสถาน สิงคโปร์ สหรัฐอเมริกา และประเทสไทย ประกอบด้วยต่างประเทศ 9 คน และคนไทย 9 คน นิทรรศการครั้งนั้นมีการนำเสนองานจิตรกรรม เซรามิค วีดีโอทัศน์ ศิลปจัดวาง และสื่อแสดงสด
ในปี พ.ศ. 2541 คุณพันธินีย์ จำเนียรไวย ผู้ก่อตั้งสตูดิโอช้าง ซึ้งแม้จะเป็นบัณฑิตสาขารัฐศาสตร์ แต่ได้ให้ความสนใจและเคลื่อนไหวในกิจกรรมทางศิลปะเสมอมา ได้ร่วมกับคุณนิตยา เอื้ออารีวรกุลผู้ร่วมก่อตั้งกลุ่ม มีทัศนะว่าศิลปะน่าจะเป็นสื่อในการเสนอประเด็นสังคมในยุคปัจจุบันในรูปแบบต่างๆ ได้เป็ฯอย่างดี และควรใช้ในการส่งเสริมสำนึกที่ดีทางสังคมในหมู่ประชาชน นอกจากนี้ยังเป็นการส่งเสริมสำนึกที่ดีทางสังคมในหมู่ประชาชน นอกจากนี้ยังเป็นการส่งเสริมความสัมพันธ์อันดีระหว่างศิลปินโดยเฉพาะอย่างยิ่งศิลปินหญิงยุคปัจจุบันของภูมิภาคนี้และสากลโลก
ดร.ไกรศักดิ์ ชุณหะวัณ ที่ปรึกษาของผู้ว่าราชการกรุงเทพฯ ได้สนับสนุนและผลักดันให้โครงการนี้ให้เป็นรูปธรรมมากที่สุด แม้จะใช้เวลาอนุมัติถึง 1 ปี ทั้งนี้ทุกคนรู้สึกภาคภูมิใจมากที่ ดร.พิจิตต รัตกุล เป็นผู้ว่าราชการกรุงเทพมหานครคนสำคัญ ที่ได้ให้ความสนใจต่อคุณภาพชีวิตของคนในเมืองหลวง และเป็นบุคคลแรกที่ได้ให้ความสนใจต่อศิลปะอย่างจริงใจ
WOMANIFESTO II นอกจากจะได้บรรลุวัตถุประสงค์ในอันที่จะให้กรุงเทพมหานครกลายเป็นสถานที่นัดพบทางศิลปะระหว่างศิลปินไทยและต่างชาติ เพื่อแลกเปลี่ยนประสบการณ์ทางศิลปะอย่างเสรี เพื่อสื่อความหมายทางวัฒนธรรม การเมืองและสังคมแล้วทางสำนักสวัสดิการสังคมได้ถือให้เป็นโครงการสำคัญเพื่อร่วมฉลองพระเกียรติพระบาทสมเด็จพระเจ้าอยู่หัว เนื่องในวโรกาสพระราชพิธีเฉลิมพระชนมพรรษา 60 รอบ 5 ธันวาคม 2542
ดังนั้นนิทรรศการแลกเปลี่ยนศิลปินหญิงนานาชาติครั้งที่ 2 "WOMANIFESTO II" จึงได้เกิดขึ้นในสวนสาธารณะอันเก่าแก่ของกรุงเทพมหานคร ด้วยความอนุเคราะห์ของสำนักสวัสดิการสังคม, มูลนิธิศิลปวัฒนธรรมแห่งกรุงเทพมหานคร และมูลนิธิส่งเสริมโอกาสผู้หญิง (EMPOWER) ทำให้เราสามารถเชิญศิลปินเข้าร่วมโครงการ 32 คน จาก 13 ประเทศ ในรูปแบบของงานนิทรรศการและการสัมมนาเชิงปฏิบัติการ โดยศิลปินเข้าไปทำงานในพื้นที่ร่วมด้วยการแลกเปลี่ยนสไลด์ – วีดีโอผลงาน และในช่วงสุดท้ายได้ร่วมสรุปงานและหารือแนวทางในการจัดตั้งศูนย์ ข้อมูลศิลปินหญิง ขึ้นในประเทศไทย
ทั้งศิลปินไทยและต่างชาติได้ประจักษ์แล้วว่า นิทรรศการแลกเปลี่ยนศิลปินหญิงนานาชาติ ครั้งที่ 2 (WOMANIFESTO II) ที่ผ่านมานี้ถือเป็นนิมิตหมายอันดีต่อสถานภาพสตรีที่ยังชีพด้วยการทำงานศิลปะ หากผู้ใหญ่ของรัฐ ของประเทศ จะให้ความสำคัญต่อศิลปะอย่างแท้จริงเฉกเช่นผู้ว่าราชการกรุงเทพมหานครคนปัจจุบัน เหล่าศิลปินให้คำมั่นว่า จะเป็นแกนนำจัดงานนิทรรศการเช่นนี้ขึ้นให้อีกในปี ค.ศ. 2001 (พ.ศ. 2544)
พันธินีย์ จำเนียรไวย และ นิตยา เอื้ออารีวรกุล
สตูดิโอช้าง
มิถุนายน 2542
"Stolen bodies" (Performance Art)
Amanda Heng : Singapore
"As long as the definition of 'beauty' comes from outside women, we will continue to be manipulated by it." There is a great discrepancy between what we see in the social representation of women and the self-awareness generated from our bodily experience. The female body has its own organic integrity and that must be respected. Women have to go back to their own bodies, to our primary source of information to seek a new narrative, a form of discourse in which our own experience as women is validated. Women do not need to change our bodies. We need to change the rules. We have to ask "What is beauty? Who decides?" (Naomi Woolf in her research on the issues of beauty.)
"Women's cemetery"
Chen Qing Qing : China / Australia
"As long as the definition of 'beauty' comes from outside women, we will continue to be manipulated by it." There is a great discrepancy between what we see in the social representation of women and the self-awareness generated from our bodily experience. The female body has its own organic integrity and that must be respected. Women have to go back to their own bodies, to our primary source of information to seek a new narrative, a form of discourse in which our own experience as women is validated. Women do not need to change our bodies. We need to change the rules. We have to ask "What is beauty? Who decides?" (Naomi Woolf in her research on the issues of beauty.)
"I was born a female" (Performance)
I think about my life very deeply. I've started searching for a 'new' life. I want to do my art.
"Thai silk and pins"
Dawn Laddawan Passar : Thailand / USA
Countless pins or troubles a woman has gone through.
"Spirit hanging"
Dounghatai Pongprasit : Thailand
Some people's qualities can be destroyed by names given as man or woman. Innocent work can be stained by vicious thought.
"Love no. 12 "
(Perfromance Art – Co-performers: Monthatip Suksopha and Nutjaporn Swasdiprom)
Jarunun Phantachat : Thailand
Woman may have a choice to give birth or not, but woman has no choice to love the man to whom she gave birth.
"Arrival of death"
(Perfromance Art)
Jittima Pholsawek : Thailand
Natural resource management in the central plain of thailand. What difference will it make to be man or woman when our environment is destroyed – we all share the same face.
"Dove-corns"
Kanya Charoensupkul : Thailand
Doves cannot eat packet food.
"Stride I"
Khaiseang Phanyawatchira : Thailand
Left……right … right …. Ieft. Up down down …. up. Woman … Woman …. Woman
"Stride II" (Perfromance Art)
Left … left … left …. left Right right right Right!
"Stand beside the water "
Kim, HeaSim : Korea
For my works, I use natural elements. The use of natural materials is to promote a perfect cohesion between the work and its surroundings.
"Don't step on the flowers "
K.O. : USA
What do you want? How will you get it? You may be able to have everything if you think about it and proceed mindfully. I wish to step out of the world of the flat photograph, and flat paper and other flat world notions. Staying at home is not an option.
"Sun, string and me "
Ko Hyun-Hee : Korea
I present my idea using stones, string, sunshine, shells, leaves, flowers, nuts and accumulat ed earth.
My work coexists with the strength of sunshine, huge leaves and ornamental flowers in the cities. The energy comes from nature which blends well with small creatures and human beings. My yellow colo'" shows the life force in the spring. Life is forever.
"Body installation "
(Performance Art)
Mayumi Hamada : Japan
An artist who wants to realise her inner image of passionate fanaticism, is looking for the boundary of possibility in performance art. My characteristics are: Intensity of spirit … Affection for beauty …, Improvisation… Love for red colors which means "the flare of my soul, my life and love as a woman"… & Pursuing something spiritual which will never be fulfilled by others.
"From pest to pets "
Mella Jaarsma : Netherlands
I brought 200 squirrel skins from Indonesia to Thailand. These squirrels were killed by Indonesian farmers because they are seen as pests in the coconut plantations. I used these skins in the park where there are live squirrels, stimulating thought about differences in context – Pests or pets? Rural farming or urban culture?
"Equality "
Morakot Ketklao : Thailand
Biology + Psychology + Anthropology = Logic
"Yin-yang "
Nguyen Dam Thuy : Vietnam
The Vietnamese still preserve the symbol of Yin-Yang as part of their long term tradition, and that is the symbol ofthe square and circle. Where there is a square (yin), there is a circle (yang). The sky is round. The earth is square. The Vietnamese try to keep the harmony of Yin-Yang in the human body and in the natural environment. I have used scarecrows to personify Vietnamese farmers: These scarecrows are placed on the "square-circle" boundary made of white pebbles.
"To live in the contemporary world "
Nguyen Thi Chun Giang : Vietnam
It is difficult to live in the contemporary world. Humans are always surrounded by the century's disease caused by over population, AIDS, pollution or economic crisis. There are more evil things than good. Humans always need a bell as a warning to make sure they are on the right track. Without the warning (or alarm) they cannot overcome temptation. They also need a lamp to light the way forthejr souls to identify the good path. Without it, their mind will be darkened.
"Reach out of this world "
Human life is a cycle. Born from nothing, then at death returning to nothing. In the past. Vietnamese women suffered from a set pattern – from birth till death – having to serve males: Father, brother, husband, sons. Their place was in the kitchen. I want to describe contemporary Vietnamese women's thirst to break out of this nmrow world of finding their sons worthy places in society.
"Head facing?"
Nilofar Akmut : Pakistan
In search of an image. I grew up without an image. An equal division of assets at Partition I was told. They were in institutions overseas. I scanned copies of Thames & Hudson looking for what?
To deconstruct what? David's" Marat dead in his bath" or Ingre's " Nude facing me". My reality was 3 military regimes and a futile feudal attempt at democracy. Some nations pour volumes ff concrete to bury their past. Mine, directs a pistol to silence me. I turn West. hoping for respite, a voice, and image.
I imagine I obliterate my past. I excavate one layer. Remorselessly, another faces me. Hand on trigger in anticipation. This is my image.
"Bags "
Nitaya Ueareeworakul : Thailand
In this installation I use vanity bags to represent the female form, which contain my creative dreams:
I am searching for real freedom and peace.
"Boudoir 2000"
(Woman's private room 2000)
On-Anong Klinsiri : Thailand
"Culture" stems from people not opening themselves.
Untitled "offering"
Pinaree Sanpitak : Thailand
Purple flowers are blooming, Father has explained the difference between 'Tabaek' and'intanin' (flowering trees), but I still get confused because they are so similar. It's getting hotter each day, At least the 'kite wind' makes the heat a bit more bearable, It's too hot to work in the studio, As I sip my coffee, the chickens are cackling behind the wall. An egg might have been laid, Flowers bloom and do my writing, Time goes on, These works are my 'offerings' and homage to my being a woman.
"Pavilion 8, The Bangkok Emergency House Project"
Sanja Ivekovic : Croatia
The" Bangkok Emergency House Project" is a third part of a work in progress which I started in 1998 under the title "Women's House", Conceived as an international project, "Women's House" consists of site- specific installaltions based on the workshops with the women who are seeking refuge at a local shelter for women (either because they have been victims of domestic violence or for some other reason).
The work in this exhibition was done thanks to the collaboration of the Banpko,k Emergency House and eight women who accepted to work with me and write their stories for this project. One of their stories: "I got the disease from my husband nine years ago. I have a child.
He's seven years old. It is my luck that he did not catch the disease. My husband has already passed away. The reason I came to live at this Emergency House was that some of my brothers, sisters and relatives thought me disgusting because of the virus. But some understood and they took good care of me as if I were a normalpatient. That made me want to live longer. I hope there will be a vaccine that can cure this disease in the very near future."
"Swept around in the wind."
Saraswati Gramich : Singapore
My works are inspired by an idea of self-organisation of human beings and the elements of nature:
How they always maintain a continuous exchange of energy and matter with the environment … How humans and the elements through orderly and disorderly arrangement of energy, relate to finding their place and adaptin.g themselves with the environment.
"Gate"
Sermsuk Thiensoonthorn : Thailand
It depends on you whether you want to open or close the gate.
"Melancholic rhapsody "
Sriwan Jenhuttakarnkit : Thailand
When a human being is without conscious awareness and contentment, he or she becomes obsessed by greed leading to destructive behaviours towards themselves, others and the environment.
"The origins of the park "
Surojana Sethabutre : Thailand
Sew a seed and the earth will yield you a flower.
Dream your dream to the sky and it will bring you your beloved. (Khalil Gibran's Sand and Foam)
"Me being me"
(Performance Art)
Tari Ito : Japan
Everybody should be able to live their own lives. My work explores the body and eroticism of a single womanin the face of sexual discrimination and heterosexuality, aiming to create a universal expression.
"Your hand opens and closes and opens and closes "
Varsha Nair & Virginia Hilyard : India/ Australia
"If it were always a fist or always stretched open, you would be paralysed." (Extract from Birdwings by Jelaluddin Rumi)
The movement between strength and vulnerability is traversed in slow motion and is left open to interpretation within and beyond the frame. Through the depiction of a massage, this work talks of an imbalance, of tensions that lurk beneath the skin and that are disguised in a culture driven by surface and beauty. This video installqtion was set up opposite Wat Po, a Thai Buddhist temple which houses a massage school.
"Fire – fly "
(Performance Art)
The Wandering Moon : Thailand
– Monthatip Suksopha, and Nutjaporn Swasdiprom. Guest performeJ. Montri Toemsombat as male shadow
Having a light is sufficient for the journey.
"Parasites of life"
Watcharaporn Srisuk : Thailand
Parting nature spirits retain life which return some of their fruit to the earth in the form of beautiful mushrooms.
"Relationship"
Yuvana Poonwattanawit : Thailand
In my view, there is no slogan that can replace woman, The female is a puzzle waiting to be revealed and unfolded, Relationship is the best way to reveal what was hidden so that it will manifest itself.
Happy Event
Womanifesto II artists had the pleasure to meet with other European women artists on a networking and cultural exchange tour coordinated by Jay Koh from IFIMA (International Forum Intermedia Art, www.arting.com)
Inge Broska gave a talk on the histroy, work and projects of the Frauen Museum in Bonn, Germany (founded 1981, www.frauenmuseum.textur.com). This is the first women museum in the world and it shows the historical and contemporary art projects from the perspective of the women and organised by women. Inge Broska, a managing executive and curator of the museum introduced art projects of the artist group "Zart und Zackig" and produced numerous "stone-handy"( cellular phone) in plaster and clay during her stay here under the sponsorship of Goethe Institute, Bangkok.
Veronika Dreier, Doris Jauk-Hinz, Eva Ursprung of WAS. (Women Art Support, www.mur.at/was). came to promote their project "Women Beyond Borders" under the sponsorship of the Ministery of Foreign Affairs/Austria, Women's Dept. and the Art Council of the City of Graz, Austria. This mail art project consisting of 180 objects contributed by artists from 15 countries are presented in~ho.wcas in a train that travel from Graz/Austria to St.Petersburg/GUS through Hungary, Ukraine, Lithuania, Latvia Estonia, Belarus. This is a production of a virtual and real journey that cross 8 borders.
Regina Hellwig-Schmid presented an international project as a contribution to Womanifesto II with he aim of maintaining a Yes-No dialogue. Titled "Global Misunderstandings", the work endeavoured to promote a spirit of togetherness. She was sponsored by the Women's Dept, City of Regensburg, Art Council Regensburg, Germany.
* Womanifesto II – An International Women's Art Exchange Exhibition – Catalogue available